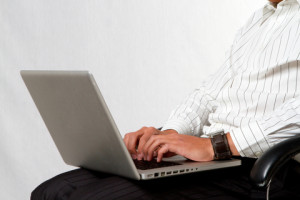 There really isn't any excuse not to have a professional-looking small business website thanks to WordPress. Even if you do not sell things online, it's good to have a website for your business. Here is a simple process for creating a small biz site in under one hour (assuming you're familiar with internet basics) for $18.
– Visit WordPress.com and sign up for a new account using your business name.
– When you're signed in, choose the option to purchase a domain for $18 (price as of the date of this initial posting).
– Select the option to activate the newly purchased domain name for your new WordPress site.
– Click the "Appearance" button on the dashboard and then "Themes." Choose the drop down option to view all FREE themes.
– Activate the theme that you like best and select the option to customize it to your liking (options are limited for free themes).
– Click the "Pages" button to add pages to your site (About, Contact, Squeeze/Sales page)
– Update the "Widgets" (also located under the "Appearance" menu) with links to the pages advertising your offerings or service.
– Start posting blogs related to the theme of your new business to draw traffic to your site.
BOOM you're done.
Of course the process will take more than one hour when you count up the time you'll spend updating, posting to and tweaking your new small business website on WordPress, but there's no reason why it should take you more than an hour to get it started. No excuses!
Now keep in mind, if you want more options and freedom to do what you want with your new small business website, will have to establish it with the software at WordPress.org. This is the official WordPress software that you host and manage on your own hosting account. That requires you to get a web hosting plan that supports WordPress installations. Don't worry, you don't have to understand every single detail just yet — you'll get the hang of all this as time goes on.
Expect to pay about $10 per month for a hosting plan (here's one for $6.99 per month). Most web hosts have a one-click installation and easy instructions for how to update your site. In most cases you'll update your WordPress website from http://www.mywebsite.com/wp-admin (where "mywebsite.com" is replaced by your actual domain name). The management process is very similar to how you would update it using WordPress.com . If you want a more attractive theme than the ones offered for free, you can find a nice one that can be customized to your needs here.
So there you go. Jump in and get started so that you can finally put a classy website address on your business cards.
Starting up a small business, even if it's just on the side, is no longer an option -- it's a necessity. Why? Because everyone needs an additional source of income in our new economy. Click here to sign up for educational and motivational posts to keep you on track.