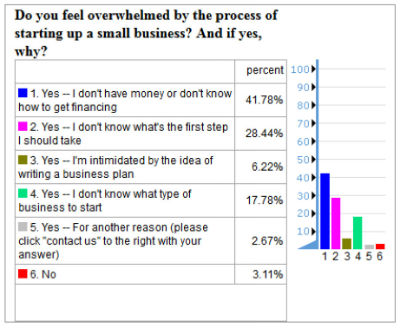 We did a survey of people who were interested in starting a small business. The question was "Do you feel overwhelmed by the process of starting up a small business? And if yes, why?" The majority of people mentioned securing small business financing as the main issue. To start your own company you're going to need resources to some extent — supplies, equipment, an office, cash to buy products to resell and money to pay people to help you out. It's also wise to have some cash on hand during the first few months of operation or until you start generating a profit.
Securing financing is one of the most pressing issues for people who want to start a business. But you shouldn't let it stop you from pressing forward with your idea. Once you hammer out your business plan, you might actually find that you don't need as much money as you once thought to get things rolling in the right direction.
The Different Ways to Finance Your Small Business
There are a few different ways that you could go about financing a small business:
– Business loan from a bank (SBA loans are guaranteed by the government)
– A micro loan from a CDFI (Community Development Financial Institution)
– Money from an "angel" investor
– Crowdfunding
– Small loans from friends and family
– Money from your personal savings
– Second mortgages (not recommended) and credit cards
It's not always easy to get financing in the form of a business loan for small operations – you really have to have your ducks lined up in a row. You need a solid business plan, very good credit and collateral.
If you do decide to go for a business loan, join an SBDC (Small Business Development Center) first to get advice and guidance to be prepared, then apply.
Other Options
Many people immediately assume that they have to go to a bank for help, but it's a better idea to see what sources you may already have first to finance a small business idea. Maybe you could make some sacrifices and save up each month while you're planning your business. Sell off some things in the garage.
Maybe you've been blessed with supportive family members or friends who would be willing to invest some cash into your new small business idea? If they see that you're serious about it, and you come to them with a proper business plan, you might be surprised by the support you get.
Some people use their credit cards as a source of financing to get a small business up and running. Whether or not this is a good idea depends on a number of factors, such as the interest rate, credit utilization (balance divided by available credit) and ability to reliably repay the card balance over time.
Another popular option is crowdfunding. This way of raising money for a small business is becoming more and more popular — especially for people who have an invention or product that they want to share with the world.
If you really believe in your business idea, financing is not going to stop you from making it happen. For more ideas for financing for small businesses, whether it's applying for a business loan or crowdfunding, see the resources below (bookmark this page and come back for updates).