If you want your business phone number to remain unlisted, get a toll free 800 phone number.
It's hard running a small business. Even the smallest details, like how to establish your business telephone number, can be a complicated decision.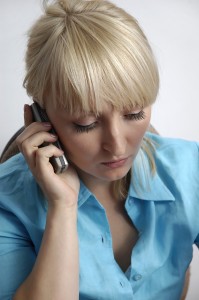 For instance, have you ever thought about whether your number should be listed or unlisted?
There may be a few reasons why you'd want your business phone number to stay unlisted.
For one, some businesses only work with an established set of clients. For instance, if you own a small graphics design company that only works with a few large clients, there is little need to list your phone number in a phone book.
Not to mention that when you do, anyone can mine your phone number and call you for various matters that you just don't want to be bothered with. You might hear from people who waste your time and are not really serious about hiring your business. You could get a random call from someone who is only trying to find out about your business for research and competitive reasons. And you may also just get a slew of sales calls from other businesses who purchase your name from a list and want to sell you something. Who has time for that?
Basically, your business telephone number is up for grabs when you list it in the phonebook through your telephone company.
The best way to keep your business number off the phone book rolls is to get an inexpensive toll free 800 phone number instead. When you sign up for a toll free number the number does not automatically go into the next edition of the yellow pages-it is a fairly private number that you can distribute to your targeted group of customers and business contacts.
Not only is the number kept private, there are also a number of benefits of using a toll free business phone number instead of adding a standard business number from your local telephone company to your line.
For one, you can block unwanted callers. So even if a pesky salesman somehow gets your 800 number and calls, you can set your 800 number to block him. Whenever he calls he'll hear a busy tone or a message stating that "this number is no longer in service" or similar (even though it is).
You can also manage your callers with a toll free business phone number. Let's say your service only applies to residents of Ohio. You can make it so that only Ohio callers, in a certain area code or from the entire state, can reach you through your business line.
So if you want your business phone number to remain unlisted and also want to better manage your business calls, get a toll free phone number (800, 888, 877, or 866). They are very inexpensive-only $2 per month for some services-and convenient for medium and small business owners.
Starting up a small business, even if it's just on the side, is no longer an option -- it's a necessity. Why? Because everyone needs an additional source of income in our new economy. Click here to sign up for educational and motivational posts to keep you on track.