Do you have to quit your job in order to become an entrepreneur? The 40-50-80 theory will help you put things into the right perspective.
If you survey a group of would-be entrepreneurs on what holds them back from starting their own businesses, one of the most common reasons is lack of time. They already work a full-time job, so they don't think it's possible to pursue entrepreneurship unless they quit their jobs.
I think a bit of reframing is necessary to dispel this myth that in order to start your own business you have to quit your job first.
So here is my 40-50-80 theory. It says that if you work 40 hours a week, and sleep about 50 hours per week (7 hours per day), you still have roughly 80 hours left in a week left to yourself. Let's call it YOU TIME. Some of your you time will be spent eating, cooking, running errands and doing other necessary duties, but that still leaves plenty of hours to pursue your entrepreneurial goals.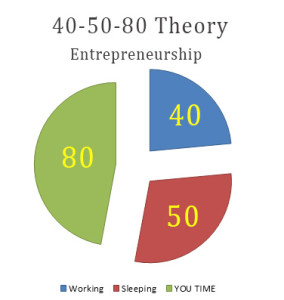 80 hours. That's DOUBLE the average number of hours you spend at a standard 9-5 job. So no, it's not necessary to quit your job in order to start your own business and pursue entrepreneurship.
Your Current 80 Hours
How do you currently spend the majority of those non-working, non-sleeping 80 hours in a week?
How many hours out of those 80 do you spend watching television?
Playing video or cellphone games?
Going to parties or buying entertainment on the weekends?
Tweeting or reading social media sites?
There's definitely nothing wrong with some play time, but you have to ask yourself if using the majority of those 80 hours for playtime at this time in your life is the best idea. OR do you make some sacrifices now so that you can play more later (with more cash and freedom).
How to Best Invest Those 80 Hours
Now that you've reframed your week a bit, here are some suggestions for how to use those other 80 hours in your week.
– Start writing your business plan outline.
– Listen to motivational and educational audiobooks written by great business minds like Napoleon Hill, Dale Carnegie, Zig Ziglar, John Maxwell and Brian Tracy.
– Spend time practicing your talent, whether it's art, music, writing screenplays, crafting jewelry, creating designs, speaking or serving customers. In his book Outliers, Malcolm Gladwell theorizes that people who spend 10,000 hours on their talent will MASTER it, so every single hour counts.
– Schedule weekly lunches with a potential business mentor (on you of course).
– Join Toastmasters in your area or a similar skill building group and attend at least twice per month.
– Start building social media accounts that are only to be used for business purposes.
– Start building a small, modest yet professional business website where interested parties can contact you.
– Create a money plan and budget that will allow you to invest a portion of your monthly check into your entrepreneurial activities.
These are just a few examples of how you can spend those 80 hours. Start off by investing about an hour or two per day into the things that you really love that could make you a profit, and you'll probably start to look forward to getting off of work so that you can invest even more time into those things.
In fact, if you put a microscope to your average day, you'll probably find blocks of time when you can focus on your plans. For instance, if you take a train to work, how long do you spend sitting and looking out of the window each day (back and forth)? What about your down time when waiting for your bacon to fry or egg to boil? Pull out a tablet or an actual pad of paper and start writing down notes and ideas — if only for a few minutes.
Everyone Has Potential But…
I am a firm believer that everyone has a special skill or talent that would make them a good living if they invested time and effort into it. At the very least you can make a side residual income that will be a part of your personal retirement plan for a lifetime and beyond.
BUT not everyone truly WANTS to be an entrepreneur. And that's okay. If that's you, then no amount of motivation can make you change the way you use your 80 hours.
On the other hand, if you're someone who definitely wants to pursue entrepreneurship but just feels a little "stuck," you have to be willing to put your all into it—that means making some sacrifices and embracing change. Just a small shift in your daily or weekly habits can put you on the road to being a successful working entrepreneur or solopreneur.
The 40-50-80 theory doesn't apply to everyone—at least not those specific ratios. Your work week, chores and sleeping schedule may be more complex than the traditional 40 hour-work week (especially if you have kids).
But even if your schedule is more demanding than the average 9-5 lifestyle, you can dedicate at least 30 minutes to an hour per day to starting a small business and pursuing entrepreneurship. As you will see in the coming years, now is the best time to get your feet wet in the pool of people who choose to create an income stream for themselves.
Louise Gaillard
Louise is a prolific writer, social media manager and marketing consultant.