My review of Strikingly – a web-based Website Builder that produces attractive one-pager sites for businesses, projects and personal branding.
Let's face it, the usefulness of developing a full scale website with countless navigation options is pretty much over — at least for small to mid-sized businesses. Most people visit a website, look at one or a few pages/blog posts, and then move onto other things. This is especially true for social media users.
Website visitors just don't have the time to luxuriously browse every site they encounter.
So what if you offered them a one-page site that was fully equipped with everything they need to know in a quick and attractive responsive format?
That's basically what Strikingly offers. It's an online website building software that allows you to create modern-looking one-page websites using easy clickable tools — you don't need any coding skills. You can pretty much see what they offer by visiting the Strikingly home page and scroll down.
My Experience
I tried out the software for myself because it looked like something that would work for a few of my offerings, including my Kindle books and content writing services.
These were the benefits / results that I found after using this software:
Strikingly gets you started right away. Literally in seconds you're designing. There are no delays or requests for a credit card, etc.
There aren't too many choices for templates, which is actually a good thing. There are studies about how the more choices someone has, the less likely they are to make a good choice. One of the templates they provide will likely work for your specific purpose (business/project, personal or portfolio).
The software provides tracking details for the previous 24 hours or 7 days. Longer analytic reports are available to pro users.
The final result after using the web builder is a very attractive, responsive site that inspires quick ACTION. This is the site where people will go when they're ready to make a purchase. The entire finished site that you create is basically a very nice looking squeeze / sales page.
The mobile version of the site also looks great (automatic) and is easy to navigate. It funnels the visitor quickly to the "buy now" link.
The publishing process is nice and quick, just how I like it. It took me about 2 hours to edit and publish.
I have created and managed many websites over the years, and though I love doing it, it can take days to get it just right. So 2 hours (which includes the time I spent creating a custom header) is pretty great. I decided to feature one of my books on Twitter advice and tips on my first Strikingly site. Here is what the finished product looks like: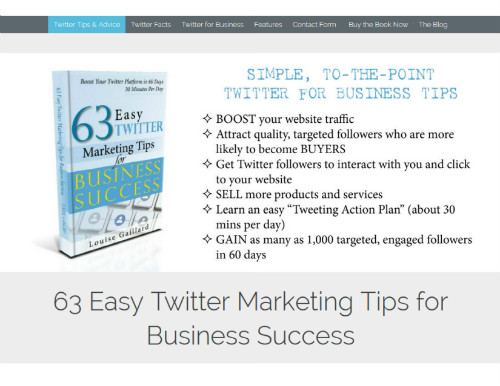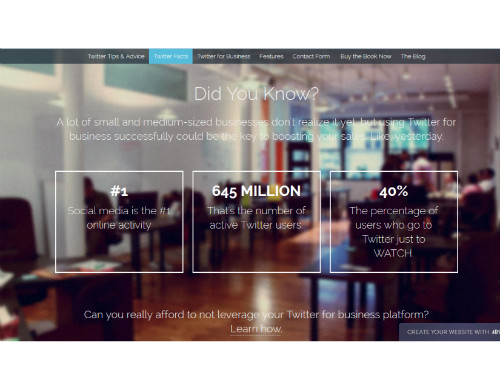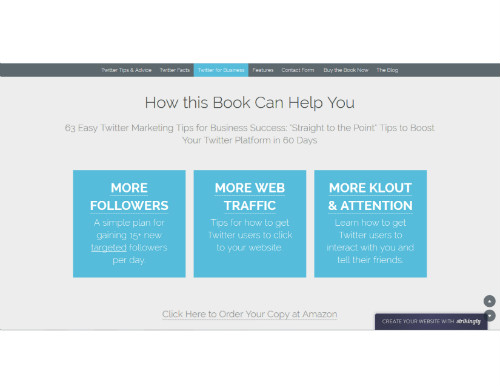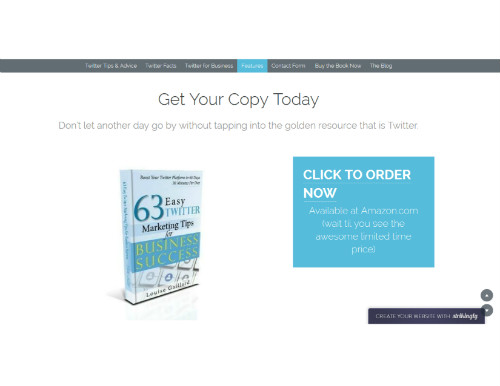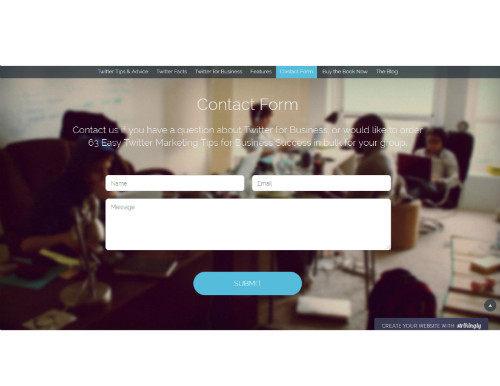 These are all elements of the same "page." Looks pretty nice, huh? I've already been getting some traffic to it after tweeting it to my followers and will probably be tweaking it some more, possibly adding a different background. Everything is pretty much already set up, including the contact box at the end — I just had to add my email address to receive messages from customers.
Here are some other notable features of this website building software:
Social media "share" links are automatically provided.
It offers simple publishing tools (simple enough for a beginner).
Custom settings can be made for the title, descriptions, header and footer.
It offers options to adjust the style (fonts and colors) to fit your branding.
Upgrading to a pro plan provides even more options (like adding a custom domain or buying a domain, adding more sections and adding custom codes).
Strikingly has a "Discover" page where people can go to browse all of the current sites using this software — another way to draw new traffic to your site.
SEO-optimized design.
So Who Would Love This Software?
Here is a short list of the people who I think would love  and benefit from the Strikingly one-page website builder:
A seller who has a clearly defined product that can be purchased online/shipped. If you sell one or two products, you'll like this software. It allows you to feature the product front and center and then provide more information about it.
Someone selling a package or basket of products related to a specific theme. A lot of retailers are finding success combining existing products into convenient packages for sale, like Valentine's Day packages, haircare products or "new pet kits."
A professional who offers a set of services that can be packaged neatly. Writers, consultants, graphic designers and other service providers can use it to set up a portfolio and list their offerings in an attractive format.
A local business that wants to attract new business online. Advanced mobile options are available to pro plan users like calling, texting and getting directions to an address.
Folks who don't have the time or know-how to create an attractive responsive website. It's just a matter of clicking, typing and uploading images.
Entrepreneurs who know the art of the "squeeze" page. Sales writers will have an easy time setting one of these pages up for quick sales.
Businesses that want to collect email addresses from social media users. Most social media marketers understand that your best shot at turning a Twitter user into a customer is to get their email address. You can create a compelling argument for why they should do that in an easy to follow format using your Strikingly one-pager.
A marketer who writes sales pages and needs a better looking way to present them. A lot of online marketers swear by long-form sales pages, but they aren't always the most aesthetically pleasing sites. Strikingly allows you to set up a sales page that's more interactive, attractive and easy to navigate.
Story telling. Some businesses need to tell a story in order to sell their product or service effectively. These one-page Strikingly sites provide a simple platform to do just that — section by section you can tell your story then give them a "buy now" link at the end.
Someone promoting a crowd funding effort or social cause. The one-page style of a Strikingly site makes it a perfect place to talk about your fundraising project or to promote a charitable cause.
A job seeker. The site offers a resume builder (integrated with your LinkedIn profile) so that you can create an interactive resume to distribute to prospective hiring companies.
The paid plans are pretty affordable, ranging from $12-$20 per month (less if you purchase a yearly plan instead of monthly). You can try out an upgraded plan for 14 days before paying to see how it works.
A Simple Solution
If I could use one descriptive word for Strikingly, I would say "simplicity." As someone who has managed many different websites and keeps a fairly busy schedule, anything that makes my life easier and simpler while giving me nice results is a winner. I'm thinking about using these Strikingly sites to set up a new business.
Bookmark this post — I may do an SEO update in the future.
About the Author:
Louise Gaillard is a prolific writer, marketing consultant and the author of
Easy Twitter Marketing Tips for Business Success
.

Starting up a small business, even if it's just on the side, is no longer an option -- it's a necessity. Why? Because everyone needs an additional source of income in our new economy. Click here to sign up for educational and motivational posts to keep you on track.